About the Happy Woman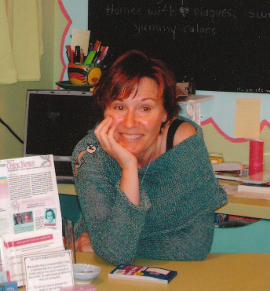 My name is Linda and in April of 2000, my husband, Steve, and I opened The Happy Woman Store® in a quaint tourist town called Pentwater, Michigan. Before I opened my shop, I was a computer programmer for about 20 years. I worked on legacy mainframe computer systems that took days to dig through. I got phone calls at 3:00 a.m. that required me to solve problems in the hallway, while my husband slept soundly away in our bedroom. I worked a lot of hours and many of them were weekend hours. I enjoyed some aspects of this work, but for the most part, I was a little bit bored and a lot burned out. In 1999, my husband suggested that I quit my job and figure out what I wanted to do. Just like that! What a guy. I'd always wanted to own my own retail store, but I had no idea what I wanted it to be like. The only thing that I knew for sure was that I wanted to call it The Happy Woman!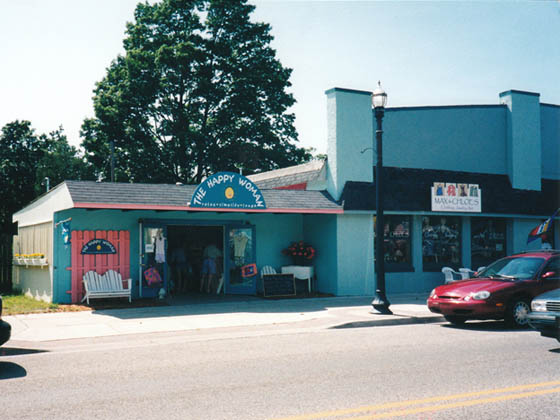 We owned a cottage in Pentwater and, one weekend, we discovered that a small space was for rent in town. It was the garage of an old hardware store called Birdland that was being renovated into 3 shops. The garage was 384 square feet, had no bathroom, no heat, no air conditioning and a wood floor that you could see the ground through. I thought it was perfect. We painted the inside, hoisted our sign on the roof, and opened for business in July of 2000. That first summer of owning my own shop was like a dream come true. Every little task, from putting price labels on to greeting customers was a thrill. And, that summer, I met so many wonderful people, many of whom have become my closest friends.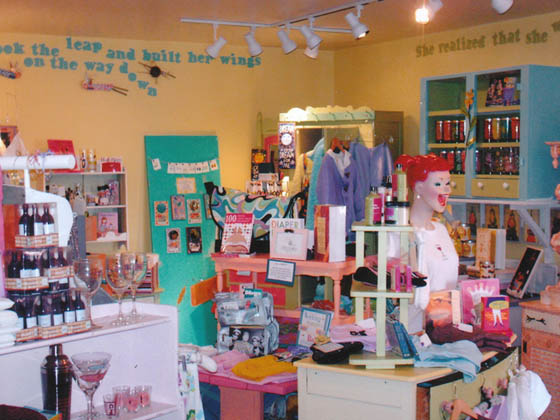 After five years in Pentwater, we moved to the Traverse City area. I found a cute little spot for a store in Suttons Bay, about 15 miles north of Traverse City. It was a lot bigger, had air conditioning, AND a bathroom. A big girl store, at last! We did some major renovations to the place and opened in the summer of 2005. In 2009, we moved to a better space in the same building. Now, we're right on the main street and we have an awesome display window, too.  2014 will mark our 15th season in business.
How many times a day do I get asked if I am THE Happy Woman?  During the summer, it's at least 10.  I've often wondered if I made a mistake naming the store the way I did because, let's face it, I'm only human — I'm not happy 24/7 365 days a year.  But, in the end, I think I'm glad that I did because being asked that question has, over the years, caused me to think about my own personal happiness more than I might have otherwise.  I now know that happiness is a journey and not a destination and that I am the person in charge of it.  I have worked out so many soul problems through this business.  It constantly evolves and changes and so do I.  And if this business has helped even one  other woman find a little bit more happiness in life, then it has all been worth it.