Shop Girl Diary: October 7, 2013
Things are definitely slowing down — the season ebbs and flows and it is really ebbing right now. The people that did come in today were very nice and my most interesting customer was an artist named Laurie Meseroll. She was so sweet and loved The Happy Woman, so, of course, we loved her right back. She told me a little bit about her paintings, and as soon as she left, I made a bee-line to the internet to see what her work looks like.  I love it, don't you?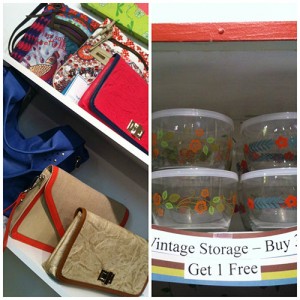 I put a few things on sale today, so if you are interested, please come in and see what's what. There is a shelf full of really cute handbags and wallets that are now 25% off and the really cute vintage storage containers are now Buy 3, Get 1 Free. These containers are not only sweetly old-fashioned, they are perfect for packing your lunch or putting your leftovers in.
I putzed and moved and cleaned and straightened and, basically farted around today. In between customers, that is. Those new socks are really popular, by the way. It's fun to buy something for the store that people are kind of crazy for.
This time of the year, I really try to work on accepting what is and living in the moment.  Of course, I wish it were busier, but the fact of the matter is, it isn't. So, I just try to breathe and find the fun and happiness in the moments that make up the day. I'm not always successful, but I do try.
These are a couple of pieces that I really like right now. They are both Velvet shirts, which I have been crushing on for a few years now. The cotton that they use for their tops is so soft and I can tell you from personal experience, they look the same after washing. And, they last a long time, too. Emerald green is the color of the moment, so I love the one on the left for that reason — and the one on the right has the coolest style:  it is nice and long and has a simple scoop neck, but it also has ruching down both sides. I'm a sucker for details.
At about 4:00 p.m., I started thinking about my dinner (I forgot to bring my lunch today, too). I made it last night from a recipe that I saved on Pinterest. It's called Chipotle Chicken and Corn Chowder, and it is delicious. My stomach is growling and I'm looking forward to these leftovers!
Thanks for reading!